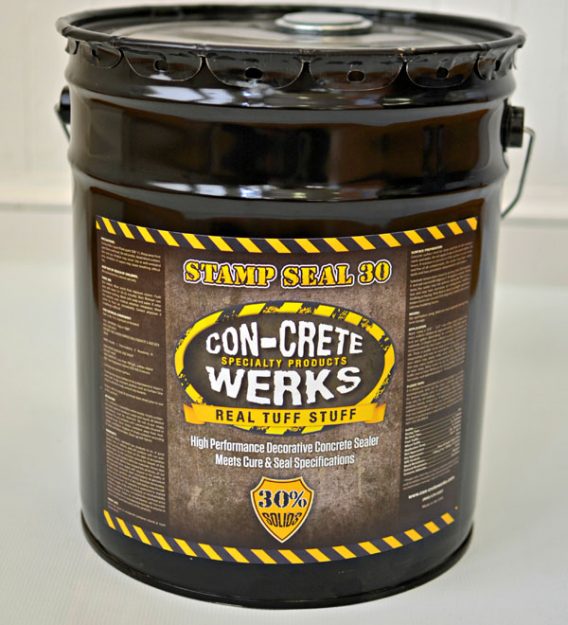 Stamp Seal 30 is a high gloss, UV Resistant acrylic copolymer concrete sealer intended for all types of concrete. Stamp Seal 30 offers great resistance to rain, the sun, freezing temperatures, stains, and other pollutants that sometimes can be hazardous to concrete. With substrate wetting agents and anti-foaming additives included in this formulation, Stamp Seal 30 provides superior adhesion to properly prepared concrete.
Applying Stamp Seal 30 to exposed aggregate will also help to eliminate loose pebbles and premature wear. Stamp Seal can be considered an ultimate multi-use concrete sealer. Meets ASTM Cure & Seal specs and is also an excellent Non-Yellowing protective coating for a variety of concrete uses
Solvent Based Acrylic Copolymer
30% Solids Content
Non-Yellowing & High Gloss
Meets Cure & Seal Specifications
-multi use high performance sealer
-offers protection from freezing tempatures, sun, moisture penetration, stains
-high gloss surface
-can be mixed with Matte for a satin or matte finish
-meets cure and seal specs
-any decorative concrete project where a high gloss high performance sealer is needed
PRECAUTIONS:
Combustible Liquid (Flash point 108° F). Keep away from open flame and heat. Do not smoke. Avoid direct contact. Skin and eye irritation may occur. Use in well-ventilated area. Inhalation of vapors may cause breathing difficulties.
KEEP OUT OF REACH OF CHILDREN.
Recommended for exterior use only.
FIRST AID:
Eye contact: Move victim from exposure source. Flush eyes with water for 10-15 minutes. Skin: Remove contaminated clothing. Wash with soap and water. If irritation persists seek medical attention. Inhalation: Move victim to fresh air immediately. Contact physician if breathing is difficult.
FOR CHEMICAL EMERGENCY
Spill, Leak, Fire, Exposure or Accident
CALL INFOTRAC- Day or Night
800-535-5053
OUTSIDE THE UNITED STATES CALL COLLECT 1-352-323-3500
HMIS: Health – 1   Flammability – 2   Reactivity – 0
FOR PROFESSIONAL USE ONLY!
VOC CONTENT: Less than 700 g/L. unless stated
DOT: Not Regulated (Unless 350 VOC Formula)
Coating may darken surface.
Coating may cause surface to be a slip hazard or slippery when wet. A slip resistant additive such as Surf-Grip may be added to help prevent slip hazards.
Please refer to msds & technical data sheet prior to use of this product.
ATTENTION:
This container is hazardous when empty. Empty containers retain product residues (vapor and liquid). All labeled precautions must be observed. Do not re-use empty container for any purpose until commercially cleaned or reconditioned. Store empty container away from heat, sparks, and flame. Dispose of empty container according to state and federal laws. Clean up with Xylene.
WARRANTY:
Surface Koatings, Inc. warrants our products to be of good quality, free of defects and will conform with our published specifications in force on the date of acceptance of the order. As the exclusive remedy for breach of this warranty, we will replace defective materials. Ninety days after Surface Koatings, Inc. has shipped the products, all our warranty and other duties with respect to the quality of the materials delivered shall conclusively be presumed to have been satisfied, all liability therefore terminates, and no action for breach of any said duties may thereafter be commenced. No warranty is expressed or implied as to the length of life of this product, or merchantability or fitness. Liability, if any, is limited to the purchase price of the material. Under no circumstances will Surface Koatings, Inc. be liable for a consequential damage to anyone in excess of the purchase price of the products.
Shelf Life:
Up to two years in unopened container stored at room temperature.