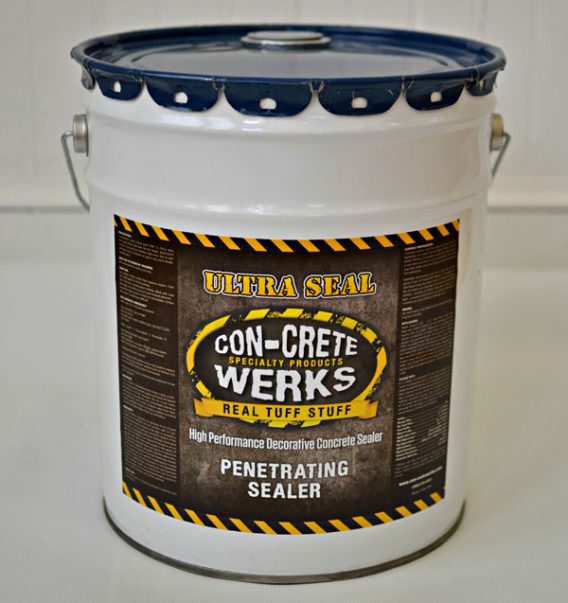 Ultra seal is a penetrating, non-yellowing, pure acrylic concrete sealer designed for all types of concrete. Ultra seal offers great resistance to rain, the sun, freezing temperatures, stains, and other pollutants that sometimes can be hazardous to concrete. Applying Ultra Seal to exposed aggregate will also help to eliminate loose pebbles and premature wear.
Ultra Seal can be considered an ultimate multi-use concrete sealer.
Contractor Approved, Solvent Based Pure Acrylic Sealer
25% Solids Content
Non-Yellowing & Medium Sheen
Ultra Low Viscosity
Penetrating
-penetrating multi use high performance sealer
-offers protection from freezing temperatures, sun, moisture penetration, stains
-high gloss, non-yellowing surface
-meets cure and seal specs.
-great for any new decorative concrete project interior/exterior application
PRECAUTIONS:
Combustible Liquid (Flash point 108° F). Keep away from open flame and heat. Do not smoke. Avoid direct contact. Skin and eye irritation may occur. Use in well-ventilated area. Inhalation of vapors may cause breathing difficulties.
KEEP OUT OF REACH OF CHILDREN.
Recommended for exterior use only.
FIRST AID:
Eye contact: Move victim from exposure source. Flush eyes with water for 10-15 minutes.
Skin: Remove contaminated clothing. Wash with soap and water. If irritation persists seek medical attention.
Inhalation: Move victim to fresh air immediately. Contact physician if breathing is difficult.
FOR CHEMICAL EMERGENCY
Spill, Leak, Fire, Exposure or Accident
CALL INFOTRAC- Day or Night
800-535-5053
OUTSIDE THE UNITED STATES CALL COLLECT 1-352-323-3500
HMIS: Health – 1   Flammability – 2   Reactivity – 0
FOR PROFESSIONAL USE ONLY!
DO NOT THIN!
VOC CONTENT: Less than 700 g/L. unless stated
DOT: Not Regulated (Unless 400 VOC Formula)
Coating may darken surface.
Coating may cause surface to be a slip hazard or slippery when wet. A slip resistant additive such as Surf-Grip may be added to help prevent slip hazards.
Please refer to msds & technical data sheet prior to use of this product.
ATTENTION:
This container is hazardous when empty. Empty containers retain product residues (vapor and liquid). All labeled precautions must be observed. Do not re-use empty container for any purpose until commercially cleaned or reconditioned. Store empty container away from heat, sparks, and flame. Dispose of empty container according to state and federal laws. Clean up with Xylene.
Shelf Life:
Up to two years in unopened container stored at room temperature.
SURFACE PREPARATION:
Concrete surface must be clean and free of all contaminants and water. Do not apply if rain is forecast within 24 hours. If moisture is present or if the surface is not clean and free of all contaminants, the sealer may have white spots and have premature delamination and failure.
Substrate temperature must be no less than 50 degrees F and not exceed 80 degrees F. If applied outside these limits the sealer may not achieve adequate film formation and may have excessive air entrapment, bubbles, blushing or hazing. Note that in direct sunlight, substrate temperature can exceed 150 degrees F which can cause extreme bubbling issues.
MIXING:
Stir well before using. Material may separate during long term storage.
APPLICATION:
Apply using a 3/8" – 1/2" nap roller cover using long even uniform strokes at approximately 250-400 square feet per gallon depending on porosity and texture of substrate. A Chapin style solvent resistant sprayer may be used as well. Do not allow to Puddle! Thick or puddle areas may prevent the solvent from evaporating and may be susceptible to moisture intrusion which may cause milky white spots. Applying too thin may cause sealer to prematurely delaminate, flake or wear away. Allow sealer to dry for 24 hours for light traffic and at least 48 hours for heavy traffic. If applying two coats, wait approximately 4 – 6 hours between coats.
PLEASE NOTE:
It is always recommended to test the product in a small, inconspicuous area (on the same concrete sub-strate) for desired results prior to application. Coverage rates may vary for all coatings and substrates depending on porosity, density, texture etc. If applying by spray method, extended coverage rates may be achieved, but be aware that less material will be applied and inadequate film formation or performance expectations may be limited. DO NOT USE ON BRICK.
Solids    25%
Drying Time        1 – 2 hours
Re-Coat Time     4 – 24 hours
Foot Traffic         4 – 6 hours
Wheel Traffic     24 – 48 hours
Application Temp             50°F – 80°F
Wet Appearance              Clear to lightly cloudy
Dry Appearance               Clear & Medium Gloss
VOC Content     <700 g/l or <400 g/l if stated
Blush Resistance              .Good
Solvent Resistance          Minimal
Concrete Adhesion         Excellent
*Please note that low air and/or concrete temperatures and/or relative humidity may extend drying times. Follow recommended coverage rates for best results.